Grade Right Services List
Visual Grading Audits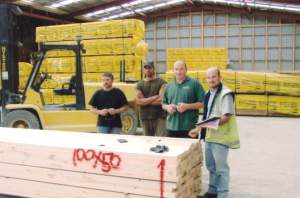 Visual grading relies on examining the visual characteristics of the timber (such as knot size and position, sloping grain, pith and wane) and comparing their size with a set of grading rules (NZS 3631:1988 "New Zealand Timber Grading Rules").
External Visual grade auditing provides independent monitoring of your graders performance and overall grade quality of green and finished product.
Developing the role and skills of a supervising grader to carry out day-to-day supervision of graders and grade quality including table audits and formal weekly internal audits.
Provide free technical advice regarding grading rules, their interpretation and application (including moisture content, size and finish issues).
Machine Stress Grading Audits
Relies on a relationship between the stiffness of the timber as measured by the machine stress grader (MSG) and the stiffness and strength properties determined by the Quality Assurance testing.
External Machine grade auditing providing independent monitoring of your machine's performance and overall grading accuracy.
Machine calibration
Grade thresholds
Consistency checks
Repeatability checks
Two-way checks
Kiln Audits
Minimise quality issues and costs in your drying operation.
Maximise through-put
Weights Application
Filleting and stacking - Optimisation
Schedule Application and techniques
Monitoring and maintenance techniques
Drying specialist timber products
Treatment Plant Audits
ERMA requirements
Boron
LOSP
CCA
Equipment Calibration
In-mill QC equipment is required to be calibrated annually.
Load calibrations for load cells up to 5000kg, traceable back to national standards. Calibrations are achieved by comparing the readout of Grade Right's traceable load cell with the load registered by the load indicator unit of the testing machine. If the error is more than the allowable limit the testing machine's calibration is re-set.
Displacement calibrations up to 2000mm traceable back to national standards. Calibration is achieved by comparing the measured displacement as displayed by the displacement indicator (usually a dial gauge) with the known displacements of a slip gauge (accurate to 0.000mm).
NZS 3622 Compliance Audits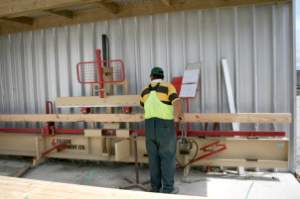 Audit mill's Quality Assurance system against the requirements of NZS 3622.
Checking to ensure that structural product is meeting the minimum structural properties of the grade to which it has been assigned.
Ensuring the timber is branded with the appropriate information.
For more information about any of the Grade Right services please contact Managing Director Paul Carpenter.